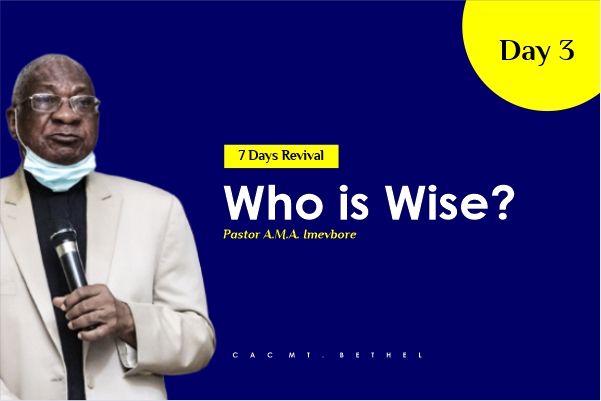 Who Is Wise? | Revival Day 3 |
1 Cor. 130   
BELOVED IN CHRIST, the Lord has made you able to become one of His children who are dearest to His heart. God's love for you is indescribable as far as words are concerned. You can only come to see that love and understand it when you take a second look at yourself and attempt a projection of your future. Since you cannot concretely make your future so clear before you as you would do with your past and your present, then know that God is already far ahead of you. It is because God loves you more than you can tell, that is why He knows your future more than you can think or imagine. You can really understand God's ways to some extent only when you get closer to Him. This is normal with every relationship. Yet, in terms of God and you, your getting closer to Him calls for not mere physical closeness (to places of worship), but a total self-emptying and in-filling of God's spirit. You may have to give your thoughts, heart and soul to Him Matthew 22: 37 "O Jerusalem, Jerusalem, thou that killest the prophets, and stonest them which are sent unto thee, how often would I have gathered thy children together, even as a hen gathereth her chickens under her wings, and ye would not!" in order to maintain your status as a dearest child of God.
The book of wisdom, which was written about 80 to 50BC, forms part of the expressions of Israel's faith and wisdom as they became influenced by the Greeks. The Greek culture that was pregnant with philosophizing gave the Israelites the love to also express their faith in God along that line. Philosophy which simply means "lover of wisdom" had a great role to play in the lives of the Greeks and all those they colonized. St. Paul also used this form of reasoning sometimes to preach Christ to his audience, but was not a fan of philosophy, since for him it is human wisdom
1 Corinthians 1:18-29 "For the preaching of the cross is to them that perish foolishness; but unto us which are saved it is the power of God. 19 For it is written, I will destroy the wisdom of the wise, and will bring to nothing the understanding of the prudent. Where is the wise? where is the scribe? where is the disputer of this world? hath not God made foolish the wisdom of this world? 21 For after that in the wisdom of God the world by wisdom knew not God, it pleased God by the foolishness of preaching to save them that believe. 22 For the Jews require a sign, and the Greeks seek after wisdom: 23 But we preach Christ crucified, unto the Jews a stumblingblock, and unto the Greeks foolishness; 24 But unto them which are called, both Jews and Greeks, Christ the power of God, and the wisdom of God. 25 Because the foolishness of God is wiser than men; and the weakness of God is stronger than men. For ye see your calling, brethren, how that not many wise men after the flesh, not many mighty, not many noble, are called: 27 But God hath chosen the foolish things of the world to confound the wise; and God hath chosen the weak things of the world to confound the things which are mighty; 28 And base things of the world, and things which are despised, hath God chosen, yea, and things which are not, to bring to nought things that are: 29 That no flesh should glory in his presence."
Beloved Paul distinguishes wisdom into divine and human. So, to talk of wisdom as Christians, one needs to bring in God who is wisdom itself. The book of wisdom personifies wisdom as feminine and the most precious of all imaginable treasures for which you need to sacrifice all for her
Matthew 13:44-45 "Again, the kingdom of heaven is like unto treasure hid in a field; the which when a man hath found, he hideth, and for joy thereof goeth and selleth all that he hath, and buyeth that field. Again, the kingdom of heaven is like unto a merchant man, seeking goodly pearls".
When you have this God-given wisdom, you are declared trouble-free and not only that, but she comes along with all good things and tops it all by letting you gain friendship with God. Therefore yearn to be a friend of God.
Now, who is wise? This is the topic for our reflection. At this point, you may be able to guess it right. The source or origin of wisdom has nothing to do with any human person but God and God alone. The description of wisdom, as inspired by the author of the book, makes it clear that she is of God: "If we desire riches in life, what is richer than Wisdom who is the active cause of everything? If the intellect shows itself in action, still more does she who fashions everything. If you love righteousness, every virtue is the fruit of her labor, for she teaches temperance, prudence, justice, fortitude – all that is most valuable in life" Pro. 8:5-7 "O ye simple, understand wisdom: and, ye fools, be ye of an understanding heart. Hear; for I will speak of excellent things; and the opening of my lips shall be right things. For my mouth shall speak truth; and wickedness is an abomination to my lips."
Matthew 6:33 "The wise person is the one who wanting riches seeks first this wisdom, when chasing for beauty, searches for wisdom and when bragging of intelligence considers wisdom first. Thus, the saying of Christ comes to play here: "Seek first the kingdom of God and all its righteousness and all others shall be added unto you"
In all things that you do, please, you need God to direct you with His spirit who knows all things and is behind all things. To be wise necessarily means being a friend of God and living by His ways. Beloved, stay close to God and remain wise and blessed!!!
Jesus Christ wants to make you happy. Psalm 23
Jesus Christ wants to give peace Jn. 1422-24 "Judas saith unto him, not Iscariot, Lord, how is it that thou wilt manifest thyself unto us, and not unto the world? 23 Jesus answered and said unto him, If a man love me, he will keep my words: and my Father will love him, and we will come unto him, and make our abode with him. 24 He that loveth me not keepeth not my sayings: and the word which ye hear is not mine, but the Father's which sent me"
Jesus Christ wants to wipe away your tears Isa. 258 "He will swallow up death in victory; and the Lord GOD will wipe away tears from off all faces; and the rebuke of his people shall he take away from off all the earth: for the LORD hath spoken it."
Jesus Christ wants to stop every sigh. Isa. 2510 "For in this mountain shall the hand of the LORD rest, and Moab shall be trodden down under him, even as straw is trodden down for the dunghill."
Jesus Christ wants to satisfy hunger and thirst Jn. 635 "And Jesus said unto them, I am the bread of life: he that cometh to me shall never hunger; and he that believeth on me shall never thirst"
Jesus Christ wants to give you victory 1Cor. 1557 "But thanks be to God, which giveth us the victory through our Lord Jesus Christ."
Jesus Christ wants to give rest to the weary Isa. 263 "Thou wilt keep him in perfect peace, whose mind is stayed on thee: because he trusteth in thee."
The Bible tells us that man was lost Rom. 312 "they are all gone out of the way, they are together become unprofitable; there is none that doeth good, no, not one."
Redemption was provided through Jesus Christ 1Cor. 620 "For ye are bought with a price: therefore glorify God in your body, and in your spirit, which are God's."
118 "Forasmuch as ye know that ye were not redeemed with corruptible things, as silver and gold, from your vain conversation received by tradition from your fathers;"
Jesus became a substitute as ransom for sin. Rom. 51 "Therefore being justified by faith, we have peace with God through our Lord Jesus Christ "
508 "He is near that justifieth me; who will contend with me? let us stand together: who is mine adversary? let him come near to me."
Forgiveness was provided through Jesus Christ. 432 "And be ye kind one to another, tenderhearted, forgiving one another, even as God for Christ's sake hath forgiven you."
Reconciliation with God was provided through the sacrifice of Jesus Christ 1Cor. 518 "And all things are of God, who hath reconciled us to himself by Jesus Christ, and hath given to us the ministry of reconciliation;"
PRAYERS
Therefore I come to Jesus today:
For rest of soul Matt. 1128 "Come unto me, all ye that labour and are heavy laden, and I will give you rest."
I determine to follow him daily for growth in grace Jn. 2119 "This spake he, signifying by what death he should glorify God. And when he had spoken this, he saith unto him, Follow me."
I determine to abide in me for power to serve Jn. 154 "Abide in me, and I in you. As the branch cannot bear fruit of itself, except it abide in the vine; no more can ye, except ye abide in me"
 Download Sermon Notes
Download Here